There was one music anime where I reviewed Episode 1 all the way to Episode 24. And it was a bumpy ride. The world, premise, and music behind it has all the ingredients to make it a classic yet it was underutilized. That anime is called Carole & Tuesday. But this won't be about the main leads, it will be about their main rival Angela who somehow stole the spotlight near the end of the show.
If you didn't know, the story is supposed to be built on the idea of comparing lyrics written by AI to lyrics that was made with true human emotion. As it goes on the idea gets blurred, as when you listen to certain lyrics again and again it was probably intentional for the character's growth. This analysis will be seen through the lens of her own songs seen throughout the story.
Angela is introduced as character who has everything. She's a well-known model, has connections to the industry, and already has a producer from the beginning. Angela started singing to express herself more, and it was proven by her first a cappella performance of Move Mountains. Her rendition in the Mars Brightest talent show was to show off how high she is in the ladder in getting the title of Best New Artist for the Grammys. In the lyrics of the full song, this verse establishes her initial goal at the beginning of the anime.
I can't wait to see my name in bright lights, bright lights
And I know that the road is much longer
I know I will make it one day, one day (And I will)

Move Mountains, Verse 2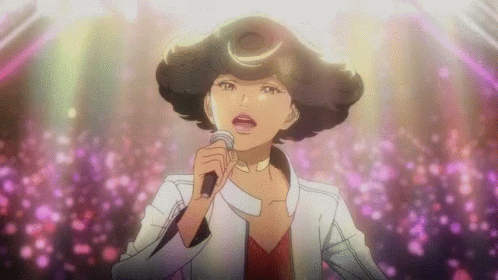 She sees that she has her own path to take, in contrast to Carole and Tuesday. Angela doesn't want to spend time with them because she knows her position. This idea gets reinforced in her next song, All I Want. At the second round of the talent show her producer, Tao, was the one who changed the song choice at the last minute. She even shows that she can still deliver no matter the sudden changes. In this song, Angela addresses a certain person she wants to get attention from. Even the chorus plays around on it.
All I want is you now
But you're the only one that passes by
All I want is you now
Oh, I wish that I could read your mind
Why won't you kiss me? It's really so easy
It's like you don't see me at all
Why won't you love me? I know that I'm worthy
But right now you make me feel small

All I Want, Chorus
However by the second verse, she's starting to have second thoughts. Being a celebrity has its own problems too, especially when she's always under the supervision of Dahlia. There was a snippet through a photo at Dahlia's former life being a man and it was stated by Tao that she was accused of assault. No exact explanation was given why Dahlia decided to transition, despite being in showbiz longer than Angela. Dahlia did, in fact, trained her for so long Angela kept up an act.
By the third song, Light A Fire, she deals with loneliness as something she can overcome. Angela barely had any time to unwind and she works constantly. She never did see someone equal to her. Angela even looked down at those who are not worthy for her. When she said she was born to break those chains, I see it as her wanting to make her own move and desires to find her own self even though the thought of it is too risky. After a few listens to this song, it turns out it's been foreshadowing what Angela went through in the anime. Don't get it? Here's a hint from the song's pre-chorus:
When the lights go out
And I'm all by myself in the darkness
When the lights go out
I hear my heart beating the hardest

Light A Fire, Pre-Chorus
Her next song, Breathe Again, explicitly talks about her newfound freedom where she had just broke her chains for winning the Mars Brightest. Though being at the top only did last for a moment. To make things even more obvious her collaboration with Ertegun literally has the song titled, Lights Go Out stylized with uppercase letters. There's also a parallel with how the word miracle is used in those two songs.
And I'm tryna feel like
A miracle

Breathe Again, End of Verse 1
You and I are perfect strangers
We never wanna be alone
Looking up into the stars
We see them in the same light
I know somewhere we can go
Somewhere we can lose control
We can find a miracle

Lights Go Out, Verse 1
Angela likes the thought of herself being the miracle but then she addressed the same person back in All I Want since she cannot find it on her own. Another hint there is "perfect strangers". The person she's referring isn't someone biologically related. And in the second ED, Not Afraid, this line shows her holding on to the person since the love she's getting is always one-sided.
Everything was cold without you in me


Not Afraid, Final Line in both verses
When you look carefully in the visuals, one pose bears a striking resemblance to her eventual breakdown in performing Endless.
Despite the show titled after the two main leads, the amount of detail was on an entirely different level for Angela. The buildup to her downfall was there when it turns out she's an orphan taken in by Dahlia. Having a last resort to overdosage is a direct effect to her psychological state at the time. She even had to witness the death of her only guardian. Her lowest point while singing Endless was the culmination of how much she had to bear for own career. It makes sense as why her final song, The Tower, is heard last. Here's the lyrics that correlate to each other:
Morning never comes
Darkness chokes me
Wish that I could see the sun

Endless, Bridge
Missed a beat on sunset

The Tower, Final line from Verse 1
Lyrics of Endless and The Tower has one last parallel with the idea of the sun. The sun gives light, and light shows you the way. Removing it gives you darkness, especially when Angela has no one to reach out to, hence why she's always alone. Endless is also the song where she admits her own loneliness as it was hinted in Light A Fire. If you put it all together, the only one who fits the bill is no other than Tao himself.
Why? The word "perfect strangers". Both of them are created by Professor Zeeman except that character is only mentioned by name in the entire show. In fact, they are humans created in the same lab which is why they're not related by blood. Tao even showed up before her at the end of Episode 23. He was basked under starlight while Angela is on her hospital bed with shadows cast around her. Yet, this plotline is never explored more because time ran out.
If there's a possibility, I would like to see a story focused on them. The amount of potential they have can make the world of Carole & Tuesday more interesting than what was shown at the bare minimum. Heck, there wasn't a reason given to why Angela's last name is Carpenter. A lot of unanswered questions still stands and it doesn't stop with her.
---