Being by yourself can get dull especially when you follow the same routine over and over. One's adult life can drastically change if one isn't with the right person, until a dragon appears right at your front door. In a drunken moment, Miss Kobayashi somehow met a dragon named Tohru in a supposed "dream" who somehow ended up having her own maid and then meeting her friends along the way. The sudden change turned her life into a 180 as everything around her became warmly vivid. Even the side characters had their share of the fun.
Animated by Kyoto Animation, Miss Kobayashi's Dragon Maid focuses on interspecies communication between humans and, of course, dragons. I had the pleasure of watching it because my current list was getting a bit dull for this season and something was needed to shake it up. Dragon Maid did that.
As it delivered the studio's signature attention to detail, it brought up another aspect: character interaction. This isn't limited to Miss Kobayashi and Tohru, as other dragons have their own ways of blending into the human world.
A theme for the anime is being obedient to the rules and trying to not stand out too much. Tohru did it by saving a person in the shopping district with her brute strength, and Lucoa's overall character is a walking manifestation. Fafnir has an intimidating presence, as Kanna wants to learn new things along with her friend Saikawa. For Elma, she can't decide and is too impulsive at times. Miss Kobayashi doesn't have any of this, hence why she lives alone in her first apartment despite having a job.
Initially, Miss Kobayashi was the one telling the dragons to adjust to the human world yet she got caught up in their own antics. The dragons were trying to fit in and they have their own struggles in expressing themselves. Since she is the first person to know about the dragons, Miss Kobayashi talks with them on an equal level. Why? No matter the difference in species, one interaction can go a long way. Her co-worker was able to accept Fafnir and he even had fun on his personal space. Lucoa also realized she can't keep up the same image for long. In Tohru's view, it became more than a simple master-servant relationship.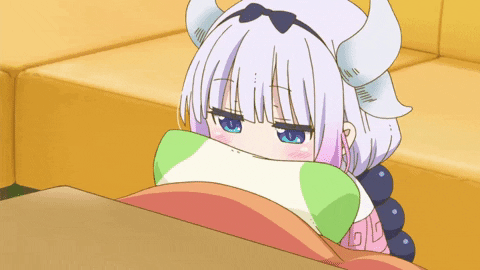 As some might miss the point, this is the first time I've seen yuri anime that isn't labelled as such. I could tell Miss Kobayashi and Tohru are in a close relationship and it is blatantly shown in their banter. Some hints: Miss Kobayashi has a great interest in maids and acts as a responsible adult being a computer programmer. Tohru wanted to get away from her original world to start anew and she gives her all. Biggest takeaway: They act like parents and sees Kanna as family. Confirmation or not, they are made for each other. I could consider Kanna and Saikawa as another though it seems to be one-sided. Even Kanna doesn't notice it as she is absent-minded in her own world.
Note: the next paragraph will talk about a specific fetish between an older woman and a young boy.
What can be rubbed in the wrong way for some is Lucoa's treatment of Shouta. Yes, the boy's name is Shouta. Search up the meaning of the word if you have the time. Shouta actively puts a distance between the two even though she wants to get closer literally. The anime blurs the line and they liked each other's company regardless. Shouta wanted to prove something with what he has, and got Lucoa in exchange. Down the line they respect each other's boundaries and they know their limits.
For Fafnir, his adoption to the otaku lifestyle was clever to slip in a character's dedication to an already existing hobby we all have, with the help of the co-worker. He may be cold at first but he does care albeit indirectly. He doesn't speak as much yet his actions says a lot.
In short: we all communicate differently. Each person we meet has a unique set of traits and some may be similar to what another person has. How Dragon Maid builds this is it can open up to a new life you didn't expect to have. Human or not, it's okay to help those in need.
---