Looks like things went back like it was before but in a varied way. It's been some time since I've been tagged for a post. And anime music? Count me in. This was a topic I used to cover in past seasons. Thank you Mallow for giving me the chance.
The original post did say I can put any number of songs as much as I want to. So here it is: a short playlist of anime songs from 2020. They are two different mediums having their own flair. What does bridge them together is if the lyrics are connected to the show and or the instrumentals feel like an extension of the anime. It became my gateway into hearing what Japan sounds like through their own music. Sometimes I might even end up listening to an artist's discography because of how good their music is. This list can be done in any order depending on your taste.
---
Other Side by MIYAVI (ID:Invaded)
Right when you hear the first beat you know it sends you into a bang. This is the second time I've heard MIYAVI doing an anime song since Flashback from Kokkoku. (Forgettable anime aside from his song.) It's a bummer you'll only hear his signature guitar solo riff in the full version and not on the OP version. Either way, he's still got it. The mix of industrial music with elements of rock fits in the futuristic setting of ID:Invaded.
Tiny Light by Akari Kitou (Jibaku Shounen Hanako-kun)
If I remember correctly, she also voiced Nene Yashiro in the anime and Seiyuu have an existing discography alongside their voice acting. This leans more on J-pop. It has the typical structure: the verse 1, pre-chorus for the build-up, then comes the actual chorus 1 or 2. Without looking at a translation, it feels like the singer is reaching out for help. Even how she's singing the lyrics it shows with the piano in the background carrying the instrumentals.
HOME by Asako Toki (Fruits Basket 2nd Season)
Fitting for the series as a whole, it feels like a walk in the park. Whether there's a light rain you know they will be a ray of sunshine through it all. Even without the series in mind it's a feel-good song. The best part is when it hits before the chorus with the timing of the beats on a constant rhythm. You rarely or never hear this on western pop songs.
Welcome My Friend by OKAMOTO'S (The Millionaire Detective – Balance:Unlimited)
There's one specific sound you won't hear at the start on the OP version which is found on the full version: a cellphone vibrating. This tiny detail stands out from what I used to hear in typical anime songs. Usually they just copy paste the first verse of the song with the chorus and instrumentals as how you hear it in the OP. It's a cheap tactic since the point is for merch sales. And it doesn't give the artist their own time to be who they are. It's great they decided to do this to know who you are listening to.
Kago no Naka ni Tori by yourness (Sing Yesterday for Me)
Sentimental nostalgia, in song form. Emotional lyrics is a common use in songs that deal with the uncertainty of life. I could play this in my mix of songs, but not all the time. There's a specific mood you must have to enjoy the song to the fullest. If only the anime did kept the same quality especially at the end despite the solid production…
Pride by Harumi (Wave, Listen to Me!)
An artist like Harumi is new to the anime scene. It's even rarer to use R&B for an anime song since it doesn't cater to a typical audience. This goes to show Japanese music has broad range of genres to choose from. I even thought this song is for a J-drama. Looking forward to any new song from her when the time comes. Songs like hers should be used more often in anime.
Centimeter by the peggies (Rent-A-Girlfriend)
I guess you're now seeing a pattern here. Even if I never watched the anime I kept on listening to this because they're one of the bands I listen to. J-rock is quite common in anime from the list of shows I've watched before. The peggies gave a more chill song compared to the in-your-face delivery of Kimi no Sei and the question thinking of Stand by Me.
Grey by FOMARE (Golden Kamuy Season 3)
Seriously, how many J-rock bands are out there? I've lost count now. Add another one to the list. FOMARE is band I know through the show and most OPs there consistently showcase rock bands or artists who can do rock. The song has the feeling of being a long journey of twists and turns and not knowing what could come.
Kimi ni Aeta Hi by Akari Kitou and Miku Itou (Adachi and Shimamura)
Another song sung by Seiyuu, this time a duet. The way how they harmonize their respective characters in the show makes it a good listen. Best part is the instrumentals. Sometimes I do wonder the very process of creating one for the purpose of anime songs. They have this distinct vibe that is separate from listening to it as a song alone.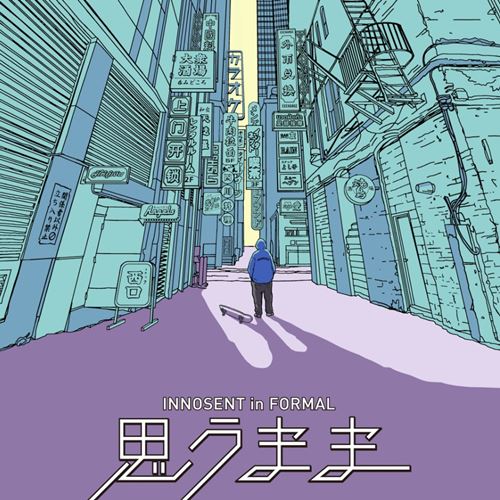 Omou mama / Our Own Way by INNOSENT in FORMAL (Ikebukuro West Gate Park)
I fell in love with this song when it played at the end of Episode 4 of IWGP. They actually have another song in the same show called After Song but this is the stronger one. The band INNOSENT in FORMAL is one of many new artists in the medium. Hearing their discography right after finishing this makes me wanting to see them more often in anime. They have potential.
---
Tags!
Another condition of this post is to tag the lesser known bloggers so they can have their own time to shine. I do want to tag the ones I interact to but it's better to share it who need more exposure.
---
Remember: this is only the tip of the iceberg of Japanese music in general. Anime music is only one part of the bigger umbrella with subgenres within subgenres. There might be specific songs I haven't heard of due to inaccessibility and the vault is slowly being open to the world at least. When there are more available, I'd love to put them in my library.
---